OK - so I don't really want to toot my own horn, but I do want to share. Many of you know that I am an active member of Scouts - just read about my Day Camp post - its says it all!! Last night we had a dinner to honor the leaders in our area. I had wished that more people would have been there, but I really don't think they did a good job getting the word out about this event and well, frankly we have a good group of "leaders", but having more come to this event would have made the moment more special for many. I knew I was getting a few awards of things that I knew I had earned and applied for - just like when the boys take the time to earn Belt Loops, Merit Badges and such, we leaders get the chance to show off badges on our uniforms of our hard work and dedication to Scouting. I did not, however, expect to receive the next award:
District Award of Merit

---
The District/Division Award of Merit is awarded by a District or Exploring Division to volunteer and professional adults for service to youth in the District or Division. Normally, the award is presented for service to youth in excess of five years.
Requirements:
A nominee must be a registered Scouter.

A nominee must have rendered noteworthy service to youth in Scouting, outside of Scouting, or both.

Note: The nature and value of "noteworthy service to youth" may consist of a single plan or decisions that contributed vitally to the lives of large numbers of youth or it may have been given to a small group over an extended period of time.

Consideration must be given to the nominee's Scouting position and the corresponding opportunity to render outstanding service beyond the expectations of that Scouting position.

The nominee's attitude toward and cooperation with the district, division, and/or council is to be taken into consideration.
---
In addition to the Overhand knot patch shown above, recipients receive a plaque, shown below
.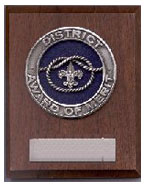 ---
---
I do have an AWESOME picture that I took of my award, certificate and patch, but I realized that it has my real name on it and well, this is the Internet and I try to be a bit careful about what I do post on this blog and in the computer world. You will just have to imagine a fancy certificate and my name all engraved on this fancy little award. I am thrilled about this award and still feel a bit wet behind the ears to even have been given this award. Much more to learn as my son and I venture up from the Cub Scouting world and start to experience the Boy Scouts in full Scouting fashion. (no pictures of my getting my award either - the organizers really didn't do a good job with that - but the food was delicious!!!)
Makes me want to work harder not only for the scouts, but it all comes down to the weight loss for me. I want to keep losing weight for my son, for myself, to take more hikes, to be able to camp and not have too many aches and pains because we are sleeping on the ground or even to have a difficult time getting up off the ground. A Scout is
physically fit
, mentally strong, morally able....all those things I am carrying with me in this new journey I have undertaken with many of you, myself and with Mer.
Day Camp will be here sooner then I think.
I will be down another 40 pounds by then -
or like I said a few weeks back - 44 more pounds for my 44th year!
Staying MOtivated MO