Sort of had a bad night - got an email I didn't want to get and will only say THIS - that I actually did have a "match" from the speed dating, and well after one 45 minute phone call he believes we are just not "compatible". I won't lie - it sort of hurt.
I almost went to the refrigerator to eat away the pain. Go figure. Bedtime with Aman included Mad Libs. Do you remember those things? They give you a story with many blanks, you have to fill in words to finish it off - a Noun, Verb, Adjective, depending on what needs to be used for that missing space. We then had a good time laughing at how funny the story was with our own creative words. I realized that it was good practice for both him and I in our grammatical twists. We then had our nightly tickle fight. It sort of got me out of my funk. I feel asleep for about 20 minutes with Aman and upon crawling out of his bed instead of returning to the computer, the TV or the refrigerator I went to bed. I got in a full 7 hours of sleep - WOW !! Awoke this morning and did a good 42 minute workout - plus some (August is the number 14 - three times 14 = 42 - LOL)....then as I was reaching for my tall glass of water I saw on the refrigerator this little poem thing I have and I won't say that I needed to read it, but I am glad that I did.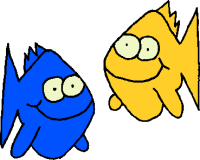 There are other fish in the sea and this will not deter me!!!
I would like to share it with you today - oh, and sorry guys - more for the woman today, but you can share with friend or special significant other.
EVERY WOMAN SHOULD KNOW...
that she can't change the length of her calves, the width of her hips, or the nature of her parents..
EVERY WOMAN SHOULD KNOW...
that her childhood may not have been perfect...but its over...
EVERY WOMAN SHOULD KNOW...
what she would and wouldn't do for love or more...
EVERY WOMAN SHOULD KNOW...
how to live alone...even if she doesn't like it...
EVERY WOMAN SHOULD KNOW...
whom she can trust,
whom she can't,
and why she shouldn't take it personally...
EVERY WOMAN SHOULD KNOW...
where to go...
be it to her best friend's kitchen table...
or a charming inn in the woods...
when her soul needs soothing...
EVERY WOMAN SHOULD KNOW...
what she can and can't accomplish in a day...a month...and a year...
Enjoy your day - may it be spectacular!!!!!
Staying MOtivated MO