When you were little do you remember watching Sesame Street? Maybe you have a little one at home that has you seeing those fussy puppet characters all over again. I remember. It it a good memory - Oscar the Grouch, the Corner Store, Big Bird, Burt & Ernie (too cute), the Letter of the Day, and the Number of the Day. The one character I was not very fond of was THE COUNT. I don't know if it was the laugh or the fact that sometimes his segments went on and on. I mean, it was cute, but then you had the HAA HAA HAA in your head for the rest of the day because he finally reached the magical number of the day.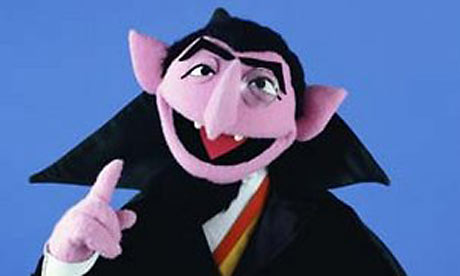 Well, that same scenario came into my head today. My magic "Count" Number for August is going to be 14!!
I jumped on the scale this morning. I wanted to do it yesterday, it being the 1st of the month, but the first day of school kept me on my toes, so I didn't have time to "officially" weigh myself. This morning's number was not the greatest. However, I can honestly say that my month of June and July turned into more of a maintenance kind of summer for me. I am officially up 2 pounds since the end of May. I am at 239 - according to my handy dandy scale. That number got me to thinking more about my August goals. It is really important to have goals each month as you are working on losing weight and I do believe you need to do the same with maintenance. Not only goals in weight loss, but goals in life, too!!
I saw that number and proceeded to think about it during my morning workout. What is that number? Where do I want to be by the end of August? What do I need to do this month in regards to my lifestyle changes? Where do I want to be in the next few months?
Why the Number 14? Many reasons, but my Mom and my God-Daughter came to mind. My mother passed away 14 years ago this July. 14 years ago this last Saturday I was then blessed with the most wonderful God-Daughter. The passing and the birth were just about 1 week apart. That little girl came into my life (and Mer's) just a few weeks early, and if I remember correctly she was close to a month early (I am sure Mer can help me out with this calculation). As sad as it was to see my Mom pass away at a very young age of 60 with Alzheimers, I do believe that she wanted to make sure I had a happy memory with her passing. Both have names that get shortened all the time, like a nickname. Less then 9 months later Mer was at my father's funeral when my Uncle got all weepy because he found out that his older sister (my Mom) shares the same nickname as Mer's little one. Mer then came to me and wanted to make sure that it didn't make for a sad memory for me. It is totally opposite of that. I love that I get so much joy out of having my god-daughter share such a special name with my Mom. So with that - I am dedicating my August 2011 to two ladies in my life.
Putting the
14
into full circle
Going to drop another

14

pounds in August. When I hit that goal I will be down 50 pounds since beginning this journey back in January 2011!!

14

+

14

= 28 - going to work out 28 days in the month of August. Not a full 31, but that does give me three days of rest here and there. (two days down - 26 more to go)

14

+

14

+

14

= 42 - put in atleast 42 minutes of exercise a day. If I do another 14, then great - that is close to a full hour. Certain days I might have to break them up, but the goal is 42 to 56 minutes a day. (Ok, I don't have to be exact, but I liked the 14 concept there)
1 + 4 = 5....going to drink 5 glasses of water a day using my 16.5 ounce straw in the cup container (I drink more with a straw then just a water bottle). I am not drinking enough and need to do so. My goal is to get in those 5 all before I finish my work day and if I get 1 or 2 more in before and after work, then I am getting plenty of water for the day.
Going to give away more then

14

shirts and might even find

14

pairs of pants/skirts hidden in the back of my closet to add to the pile (do I really have that many clothes - LOL). Why keep the stuff that is too big for me - I will never go back!!!
Going to spend

14

minutes of reflective quiet time each day. Read a book or just have a peaceful moment remembering happy times, sad times, times of struggle, times of joy, time of inspiration, time to set more goals - time for me!!
At the end of the month - down 14 pounds - feeling good and all - I want to go into a store on the 14th hour - pick up a pair of
size 14
jeans/pants and see if they fit. I don't think they will, but I am going to see what happens. I am pretty close - even shrinking out of the 18 I have right now. My shirts are in the 16/14 range - so you never know. I won't be disappointed, but I can then see where I am clothes size wise and move onto my next set of goals!!
Staying MOtivated MO